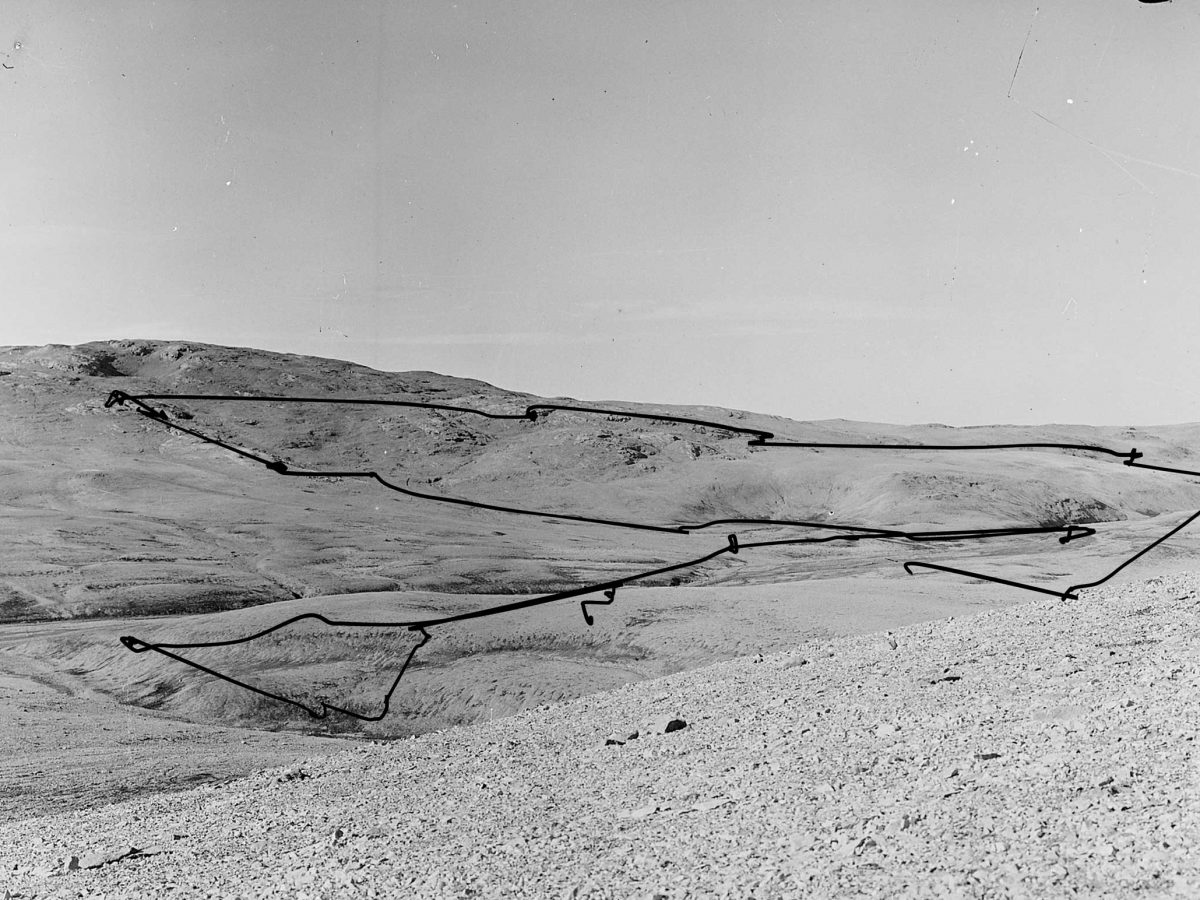 Events
Material Vision – Silent Reading
Trykkeriet,Landmark
11.04.2015 18.00
–
11.04.2015 21.00
At Trykkeriet Espen Sommer Eide will exhibit 6 photogravure prints originally commissioned by KORO / University of Tromsø for the recently opened Faculty of Science and Technology building, in addition to a new installation work. Then at Landmark the accompanying video work will be screened.
The project is supported by BEK.
19th century Norwegian geologist Balthazar Keilhau describes the island as the "Cadaver of the Earth" due to its lack of vegetation and harsh weather conditions. In exploring an unfamiliar landscape, one cannot avoid a certain process of appropriation, whether one is exploring for the purpose of politics, resources, science or art. The explorer's gaze cannot help but desire to possess and master the object in view. Through a combination of artistic and scientific performances, Material Vision – Silent Reading investigates various ways of reading a landscape and how the viewer and the viewed relate to each other. In this way of seeing certain prerequisites for perception becomes visible and partakes simultaneously in the experience. The role of the instrument in expeditions is another central theme. To investigate this subject the project uses mobile eye-tracking technologies, combined with instruments that give audible feedback to reading the landscapes. Instruments (scientific or not) allow something to be touched more directly by framing and controlling the view. The use of instruments in this way becomes a learning tool where the object itself teaches us the method of how it should be seen.
The evening starts at Trykkeriet, Fjøsangerveien 70A with exhibition and food 6 p.m – 9 p.m. Followed by a premiere film screening at Landmark at 9:30 p.m (doors open 9 p.m). Afterwards there will be music by Are Mokkelbost (Single Unit, Kill) and Mental Overdrive (DJ set by Per Martinsen).
ESPEN SOMMER EIDE (Tromsø, NO, 1972) is a musician and artist based in Bergen. As Alog and Phonophani he is among the most prominent representatives of experimental electronic music from Norway, with a string of releases on the label Rune Grammofon. As an artist Eide works with subjects concerning language, history, science and philosophy, often with sound and music as a central element.
ARE MOKKELBOST is an artist and music maker from Oslo. He played in the musically abrasive and visually violent band KILLL throughout their 10 year existence. This amalgam of metal and electronics is also found in his solo project Single Unit, extended by a nitpicking collage methodology. Before that, he was doing electronic improvisation in the trio ARM and acoustic doomscapes the duo JUV, starting as early as 1996. Today, primarily working as a visual artist, Are Mokkelbost directs his musical energy into experimentation with electronic hardware and synthesisers. At Landmark he will be playing us some tunes made on his two drum machines and synth.
MENTAL OVERDRIVE is the solo project of Norwegian artist Per Martinsen. He has been using this moniker ever since his first release for seminal Belgian techno label R&S Records back in 1990, and since released records through labels like Smalltown Supersound, Full Pupp and his own Love OD Communications imprint. He has also played live in clubs and festivals around the globe and both collaborated with, and remixed a long list of other artists. In addition to his Mental Overdrive output, Martinsen has composed music and done sound design for several films and exhibitions, written dystopian transmedia novels and occasionally exhibited his own cross-platform installation works. He now resides in his Arctic hometown of Tromsø, Northern Norway, where he also runs his Love OD Communications imprint, releasing material from artists such as Boska, Charlotte Bendiks and Le Petit Garcon.