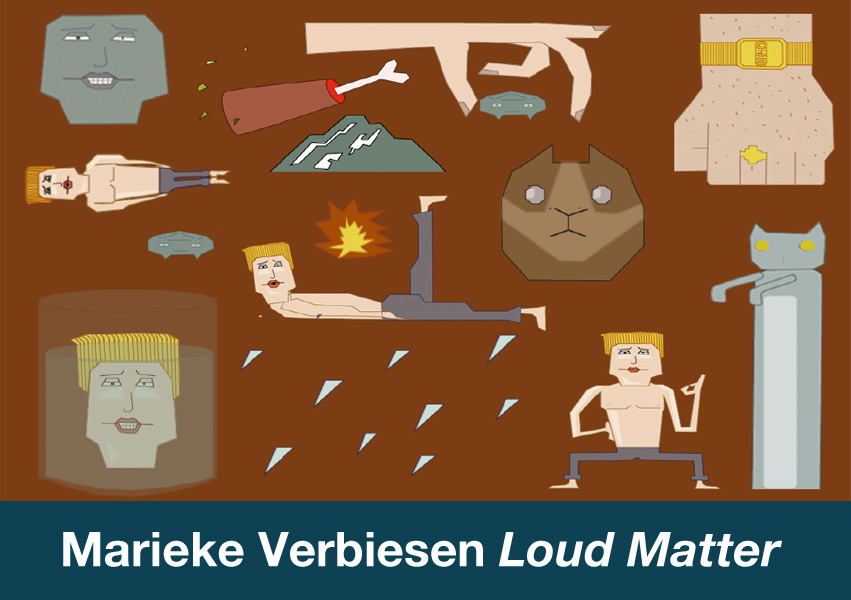 Events
Marieke Verbiesen: Loud Matter
Atelier Nord ANX, Olaf Ryes plass 2 (inng Sofienberggt.)
26.01.2017 19.00
–
26.02.2017 18.00
The various installations are heavily influenced by science fiction and Auto-Destructive Art and aim to imagine the instruments of a far away future, where destructive tools and forces are considered integral to creative processes. The visuals generated in Loud Matter are characteristic of Verbiesen's pixel-animated, retro aesthetic. Reminiscent of the graphics of video games on 80s systems such as the Atari ST and Commodore Amiga.
Marieke Verbiesen is a Dutch artist based in Bergen. Her practice is centered on interactive installations and animations, often based on b-movies, computer games and science fiction phenomena. Verbiesen blends the re-use of outmoded technology such as old computer hardware and Super 8 film with new technology such as interactive interfaces and motion tracking.
———-
The opening of Loud Matter on Thursday January 26th features an extensive collaborative program:
*CONCERT WITH JOHN HEGRE (NO) & JAMES WELBURN (UK/DE) 
& LIVE ANIMATION
 BY MARIEKE VERBIESEN
*
Sound artists John Hegre & James Welburn will perform live with noisy drones, diminished tones, clangs and distorted bass. Accompanied by live animations that build up to a variety of eccentric animated loops, forming a playful, synchronized kinship with the music.
FOOD: PEANUTS & PANCAKES (NL) BY PIEDRO & THE DUTCH COOKING CREW

Dutch Snacks for our visitors, with simplicity as a main ingredient.
COSMIC OSLO DJS

DJs Helene Rickhard & Bendik Høibraaten will play a mix of underground 80s electro, cut up beats & forgotten aerobics music.
——
The exhibition is open Thursday and Friday 15-18, Saturday and Sunday 13-18.