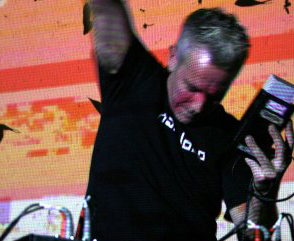 Events
8-Bit Music Screening & Concerts at Landmark
Landmark
20.03.2010 00.00
–
20.03.2010 00.00
8 BIT THE MOVIE
8 BIT is a feature-length documentary exploring the history of artists and video games. Interviews with cutting-edge artists and theorists, wild videogame concerts, and highlights from the best digital artwork being made today. This documentary about Art and Videogames exposes the cultural ramifications of video games and proposes that Generation X's coming to grips with its digital heritage signals the beginning of a new social and artistic reality.
http://www.8bitmovie.com
GLOMAG (USA)
Glomag emerged from the NYC chip music scene around the dawn of the 21st century, writing music on Game Boys and performing local shows. His music is a major part of the award winning internet series "This Spartan Life" which he also writes and directs.
His latest album DaMaGe got released on the NYC based label 8-bit peoples.
His work can also be heard on 8 Bit Operators on Astralwerks Records as well as various compilations.

http://www.myspace.com/glomaggot
BUBBLYFISH (USA)
Based in NYC, Bubblyfish works as a composer, sound designer and audio engineer. She explores the territory of sounds in electronic music. She has been creating 8-bit and experimental sound works using Nanoloop and released music on Retinascan and contributed to the 8 Bit Operators Album.
http://www.retinascan.de
http://www.bubblyfish.com
http://www.myspace.com/bubblyfishmusic
GWEM (UK) ATARI-DJ
gwEm is the artist name, handle and nickname of London based musician and chipmusic freak Gareth Morris, who uses classic Atari STs to create and mix Chipmusic using his Homebrew DJ software STJ.
GwEm released music on ShitKatapult, Preromanbritain, Micromusic and is part of the ATari Music group YMRockerz.
http://www.creamhq.de/ymrockerz
http://www.preromanbritain.com/gwem
http://www.myspace.com/gw3m
VJ HAGENISSE 8BIT VJ
Thomas Sivertsen aka VJ Hagenisse will create an 8bit vj mix
for this evening using penquins, colors and brainpower.
http://odin.bek.no/~thomas/
TOMBRAIDER 0.1 INSTALLATION
Tombraider 0.1 is a single-player game installation based on the famous 3d game Tombraider, starring the female fightingmachine Lara Croft. In Tombraider 0.1 users play a primitive 2d version of this computergame, where all graphics & audio resemble the simplicity of the very first gameconsoles, including references to classic computer gaming experiences such as the stuck "loading" screen, bad language translations and space-invader attacks.
http://www.marieke.nu/tombraider01/eng
Saturday the 20th of March
Kl. 20:00 Screening
Kl. 22:00 Concerts
Free Entrance!
Supported by Norsk kulturråd and Bergen kommune.